X-Ray detection of glass contaminants in food and glass packaging faults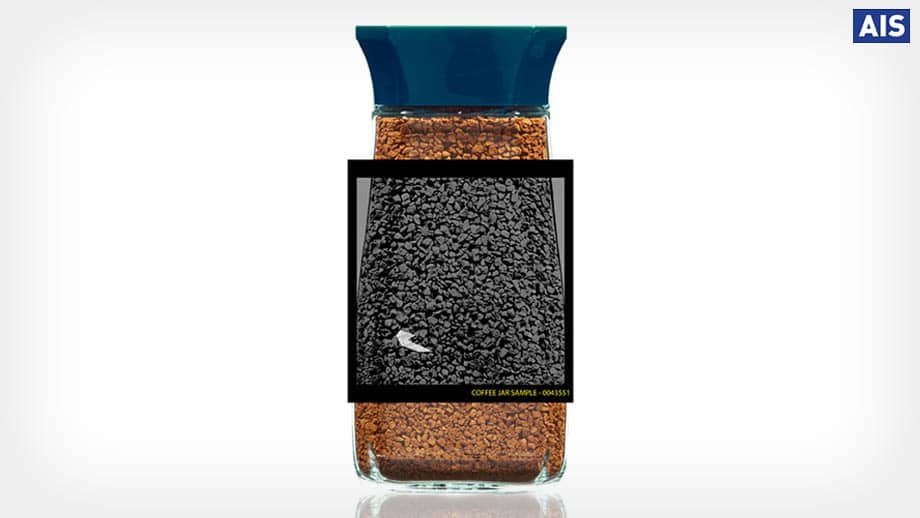 Glass bottles and glass jars are prone to a variety of quality issues while glass shards contamination pose an obvious consumer health risk. Breakages and glass contamination in food can happen despite the strictest safety procedures.
X-ray glass contaminants detection in food is the most reliable and cost-effective method for food manufacturers, pharmaceuticals and many other sectors.
Why use high resolution x-ray to inspect food products for glass contamination?
The only practical technology available to inspect food products for glass fragment contamination is high resolution x-ray and over the past 30 years has progressively become adopted as the standard for glass packaging and container inspection.
Although the type of glass typically used for glass containers is of relatively low radiographic absorption, significant advances in detector technology can now deliver excellent, reliable and consistent detection. If you do not have an installed on-line x-ray inspection system and are concerned that you may potentially have a glass contamination incident, please contact us as we regularly assist manufacturers in this situation.
As well as glass containers we can also detect glass fragments contamination in metal or in low density packaging formats including bags of raw material ingredients.
Reliable x-ray glass contamination detection, even in glass packaging
AIS' specialist x-ray food inspection technology can be customised to the exacting requirements of your product, packaging and problem.
We can detect minute glass shards (and many other contaminants) in food and within all shapes and sizes of box or packet.
How does x-ray glass contamination detection work?
Our high resolution x-ray sensors offer glass detection down to 1.0mm and can detect glass within glass packaging down to 2.0mm.
We can inspect bulk goods and single packs, while some items can be inspected in the case or carton – saving valuable time.
Our x-ray machines can simultaneously detect glass contaminants in food, glass packaging and many common quality issues including:
Glass contaminant within a glass container
Glass packaging faults such as cracked or damaged containers
Low fill level
Agglomerates
Our x-ray inspection equipment allows very rapid inspection and turn-around to ensure your products are safely back on the market as fast as possible.
We are ISO accredited to help manufacturers and suppliers achieve regulatory compliance including HACCP and TACCP.
Avoid expensive recalls with our x-ray glass contamination detection services
Whether a CCP has failed or a batch needs to be urgently tested for glass contamination, we will provide an immediate response and assessment.
Call our Rapid Response Service
AIS' experienced team are on hand to assess the suitability of your product and packaging and manage a potential recall should the need arise.
Ensure quality and compliance
Our x-ray glass detection and inspection service for food and glass packaging is also available for routine quality checks, at a simple per-unit cost.
Book a free and confidential evaluation or request a call back by our experienced team.