X-ray inspection equipment and food metal detectors for hire

X-ray equipment hire can solve an immediate or short-term requirement for contaminant detection or quality inspection, or allow you to trial the suitability of an x-ray solution in your own production line.
High resolution x-ray inspection equipment hire
Our x-ray equipment incorporates the latest high resolution silicon arrays and medical imaging sensors to deliver a higher level of x-ray detection performance than your on-line equipment can provide.
AIS' x-ray inspection systems and food metal detectors are available to hire at your own premises, including the powerful AIS X-Ray Ultra Scan.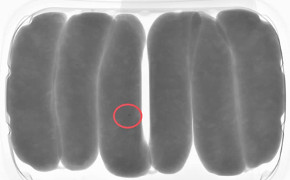 The Ultra Scan offers a resolution 15 times more powerful than a standard system and can be installed at your premises on a short-term basis.
X-ray equipement customised to requirements
The equipment is customisable (prior to rental) to a broad range of food inspection and contamination issues as well as manufacturing faults and packaging defects.
It may be possible to inspect items in a case or carton format, depending on the quality issue or contaminant and the size / homogeneity of the product itself.
Flexible contract periods
We offer flexible contract periods to allow you to save resources spent on product transportation and storage whilst offering speed and flexibility when time is of the essence.
We guarantee absolute confidentiality and can often help manufacturers to achieve the regulatory and retailer requirements for contamination and recall incidents under their own roof.
To find out more about our x-ray equipment for hire, please see the FAQs below or contact us via the enquiry form.