X-ray inspection and metal detection for food in foil packaging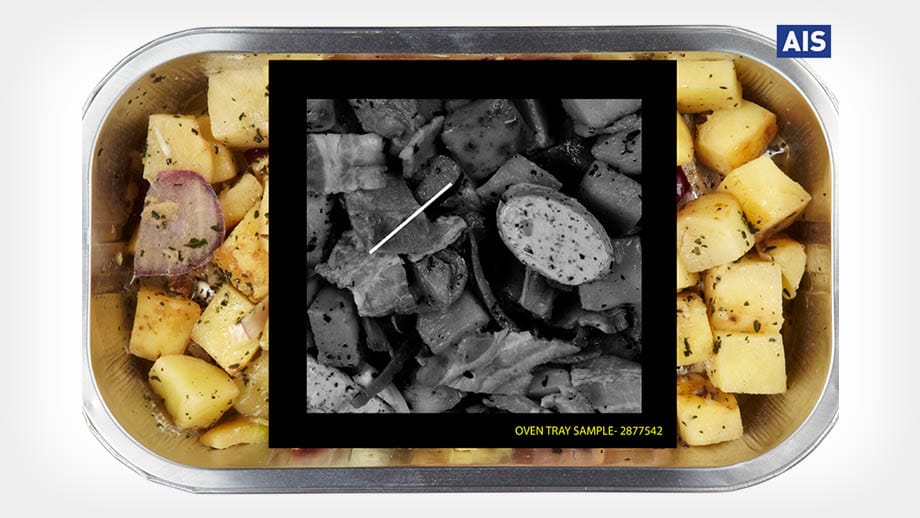 Metal and foil composite food packaging such as sachets and foil trays are very popular in the food industry. However certain contaminants can be difficult to identify using conventional metal detection techniques due to the metal incorporated within the packaging's manufacture.
Accurate detection, even in metal-based packaging
AIS' specialist x-ray detection technology can be customised to your particular product, packaging and problem – including metal detection, stainless steel or non-metallic substances in foil-wrapped food.
How does x-ray detection work?
Our high resolution x-ray sensors offer glass detection down to 1.0mm and metal as small as a 0.4mm wire.
Our x-ray food inspection techniques are highly accurate for a large range of non-metallic substances such stone, calcified bone and certain rubbers and plastics, with accurate detection as small as 1.2mm.
X-ray metal detection in all food types
We can provide metal detection in all food types – including frozen food – and for all types of foil and composite packaging, sachets, semi-rigid containers or plastic and foil trays.
Our x-ray food inspection equipment allows very rapid inspection and turn-around to ensure your foil-wrapped or metal-packaged food is safely back on the market as fast as possible.
The machines can simultaneously perform accurate food inspection and identify damaged packaging and common quality issues.
We are ISO accredited to help manufacturers and suppliers achieve regulatory compliance including HACCP and TACCP.
Fast and cost-effective x-ray inspection for food in foil packaging
When a product batch needs to be urgently tested, AIS will provide an immediate response and assessment.
Call our Rapid Response Service
Our experienced team are on hand to assess the suitability of your product and packaging, and manage a potential recall crisis should the need arise.
Ensure quality and compliance
AIS' foil and composite packaging x-ray inspection service is also available for routine quality checks, at a simple per-unit cost.
Book a free and confidential evaluation or request a call back by our experienced team.