Clothing quality x-ray inspection & quality checks for clothes and textiles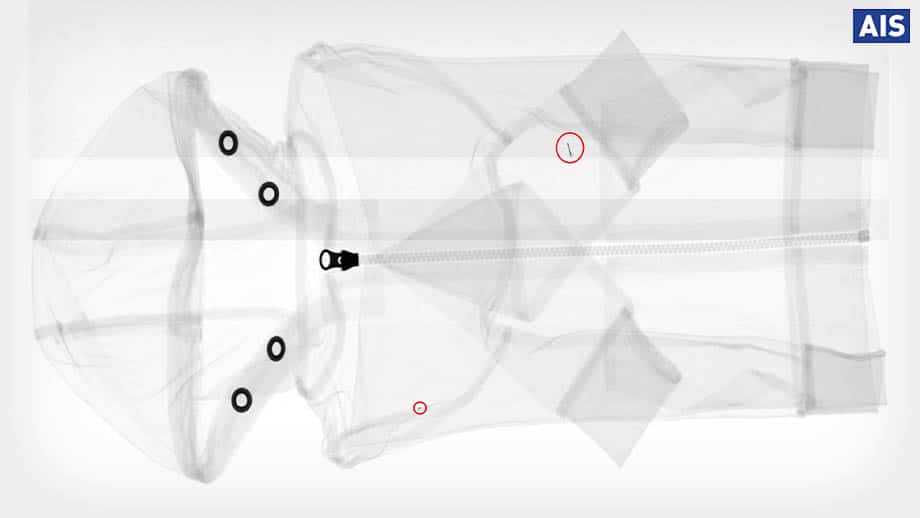 Why is clothing quality inspection important?
Consumer safety and satisfaction is essential in the clothing and fashion industry. Faster production speeds increase the likelihood of defects yet common faults such as a broken needle in the seam could be devastating to your brand.
Premium clothes brands manufactured outside the UK may also be subject to less stringent clothing quality inspection and checks prior to import. AIS' fast and efficient clothing quality x-ray inspection services can help quickly and reliably determine the safety of your garments and textiles.
Avoid a costly recall with our clothing quality x-ray inspection services
Clothing quality x-ray inspection is the most accurate method of carrying out quality checks on garments or textile goods including rapid detection of needles and potentially dangerous parts.
A needle left in clothes during the manufacturing process is considered a critical defect that poses a threat to consumer safety.
AIS' highly trained technicians are on-hand to provide a rapid response to potential clothing recalls and to put your inspected garments safely back into distribution as fast as possible.
Fast and cost-effective x-ray clothing quality inspection & checks
Clothing quality x-ray inspection is provided on a per-item basis and at very low cost.
Furthermore, it is not usually necessary to unpack clothes and textiles to detect foreign objects and a range of common faults.
What can our clothing and textile quality x-ray inspection service detect?
Needles or other dangerous metal fragments
Missing or broken zips, buckles, buttons and fastenings
Incorrectly sewn items
Missing parts such as clothing tags and care labels
Our clothing and textile x-ray inspection service is available at the end of the manufacturing process or at any stage of product recall.
Call our Rapid Response Service
Why choose us?
We are ISO accredited
AIS is the largest and most established x-ray inspection and product recovery provider in Europe, achieving ISO 9001 in 1999.
We are ISO accredited to operate a Quality Management System for the Clothes & Apparel industry.
Book a free and confidential evaluation or request a call back by our experienced team.